Access your unit using SSH
From The Kinguard Project Wiki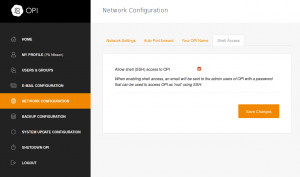 By default the unit will only accept login using the webinterface.
For many users, SSH is of interest and has to be enabled by checking the box in "Network Configuration -> Shell Access"
After enabling SSH, an email is sent to the users in the "admin" group with the password for the user "root". Accessing the unit by ssh root@your-name-or-ip will grant you unrestricted access to the system so be careful....